Long-term trends in isoprene and atmospheric oxidation, drone measurements, and eddy-covariance nitrogen oxide fluxes at the Virginia Forest Laboratory.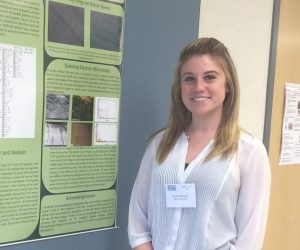 2nd-year M.S. student
Awards
University of Virginia Data Sciences Institute Fellowship, 2017-2018
Publications
Buysse, C. E., Munyan, J. A., Bailey, C. A., Kotsakis, A., Sagona, J., Esperanza, A., and Pusede, S. E.: On the effect of upwind emissions control on ozone in Sequoia National Park, Atmos. Chem. Phys., 18, 17061-17076, doi:10.5194/acp-18-1-2018, 2018.
Presentations
Isoprene and temperature as a proxy for decadal changes in atmospheric OH concentrations, University of Virginia Enviroday Symposium, University of Virginia, Charlottesville, Virginia, February 2018, poster.